30.08.07
Ich hatte ja erwähnt das wir eine Hütte auf unserem Grundstück zu einem kleinen Haus ausgebaut haben. Ich dachte ich zeig mal n paar bilder davon, den hier wohnen wir jetzt..
As I mentioned we extended a hut on our land into a small house. I thought I'd show some pics, as we're living there now..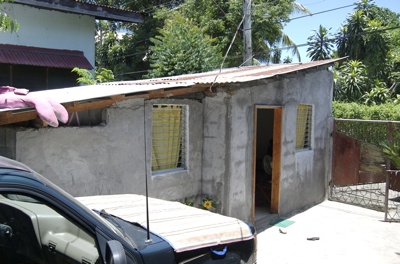 Das ist das neue Haus. Der originale Teil ist der Teil rechts, wo auch die neue Tür ist. Neu ist dort auch das Fenster, und die Wand zur Strasse, die man nicht sieht (das war vorher ein Bambusgeflecht, kein Mauerwerk). Dann wurde das Dach noch angehoben, das war vorher etwa einen halben meter tiefer.
This is the new House. The old part is the part on the right side, where as well the new door is located. New as well here is the window and the wall towards the street, which is not visible here (that wall was made from bamboo and not from bricks as it is now). Then the roof has been raised about half a meter.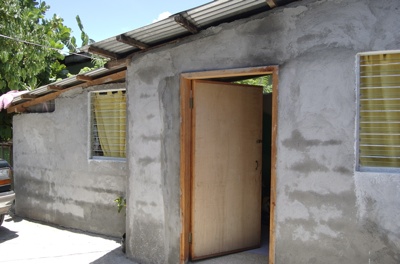 Neu ist der Teil links, wo jetzt eine kleine Küche und das Bad untergebracht sind. Für die Toilette wurde noch eine Sickergrube gegraben, die links vom Haus zu finden wäre, aber die ist mit Beton zugemacht. Auch der Boden wurde komplett betoniert, das war vorher gestampfte Erde.
New is the part to the left, where now a small kitchen and a bathroom is located. For the toilet a sump had to be build, which is left of the house, but closed with concrete. The floor was covered with concrete as well, which was stomped earth before.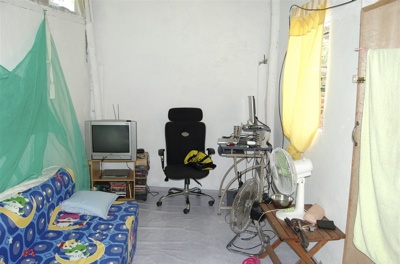 Hier ein Blick auf das Wohn- und Schlafzimmer. Die Couch ist ausklappbar und dient uns dann als Bett. An sich ist das Haus kühler als das grosse Haus, aber unsere Ventilatoren laufen trotzdem.
A view of the living- and bedroom. The couch can be extended and doubles as our bed. The house is cooler than the big house, but our fans are running anyway.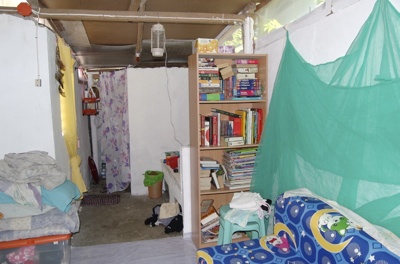 Das ist die Küche und dahinter das Bad. Wir liesen neue Kabel reinlegen, so das wir mehrere Lichter und Steckdosen haben. Die Küche hat im moment nur einen Kühlschrank, kochen und essen tun wir nach wie vor im Haupthaus.
That is the new kitchen, and in the back the bathroom. We had wires put in so that we have several lights and outlets. The kitchen has only a fridge at the moment. We still cook and eat in the main house.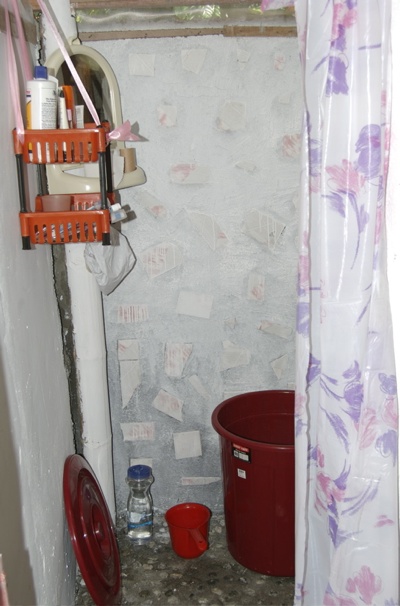 Unser Bad. Es gibt keinen Wasseranschluss, sprich wir müssen den grossen Eimer füllen wenn wir duschen wollen. Der Wasserhahn ist auf der anderen Seite der Einfahrt, also auch kein problem. Duschen mit dem Schöpfer bin ich ja nun schon gewohnt, das mach ich nun so schon seit ich hier bin, und kannte es ja auch schon aus Japan.
Our bathroom. There is no running water which means if we want to shower we have to fill the big pail. The faucet is on the other side of the driveway, so that is not a problem. I am used to shower with the small pail, I am doing it like that since I am here, and I was used to it anyway from Japan.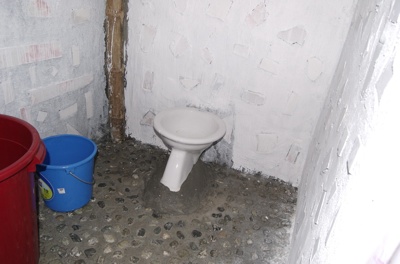 Unsere Toilette. Der Eimer ist da um sie zu spülen. Ich wollte intervenieren als klar war das wir hier einziehen und eine toilette mit Brille holen, aber da war diese schon gekauft. Aber ich hab mich dran gewöhnt, ist nicht so schlimm.
Gekostet hat das ganze etwa 25.000 Peso, was etwa 400 euro sind. Ich will nicht wissen was sowas in Deutschland gekostet hätte.
That is our toilet. The pail is for flushing it. I wanted to intervene to get a toilet with a fixture when it was clear that we will live here, but then it was already bought. But I got used to it, its not that bad.
All in all it came up to 25,000 Peso, which is roughly 400 euro or US$550. I don't want to know how much that would have been in Germany.