21.01.08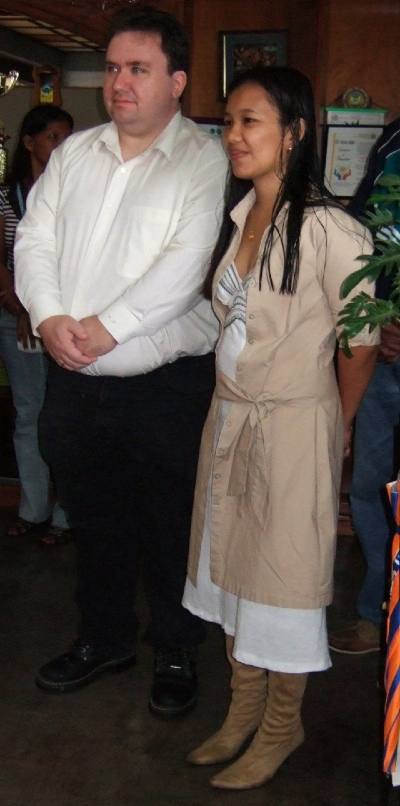 wir habens geschaft!
we did it!
21 Comments »
Congrats! It's nice to see you've now got a partner in the Philippines. Does this mean you're going to be in the Philippines for good?

Ich wünsche euch beiden alles Gute für die gemeinsame Zukunft!

Yeah… hessischhhh rockt… deshalb auch von mir alles "guude"!
Bis die tage…

Congratulations! Wish you all the very best!

Cheers,
Aditya.

Hallo Frank,
Habe "es" gerade von Jens gehört! Herzlichen Glückwunsch für euch beide und das allerbeste für eure gemeinsam Zukuft.
Schöne Grüße aus München, >yvonne

Herzlichen Glueckwunsch! Des henr abr guat gmacht. Alles Gute fuer die Zukunft! Let there be rock.

Hi Franky,

Herzlichen Glückwunsch, freue mich riesig für Euch, alles Gute und liebe Grüße! Frank G.

Eure Liebe soll vor allen Dingen
stetig Euch einander näherbringen.
Niemals lasse Euch das Glück im Stich.
Jeder wünscht Euch das; vor allem ich!

Holla Nosebaers

Happy Wedding-Dingens !!!

das Volk

juhuuuuuu!

welcome to the club!

meine eltern platzen vor glück!
(wann heirate fránk??!) =D

loads of kisses!

Congratulations to you both! Welcome to the club!

I wish you a wonderful start to your married life together.

Lots of love,

Kirsten

Hey,

ich wünsche euch beiden selbstverständlich auch alles Gute!

Schöne Grüße
Olaf

Alles, alles Gute zur Hochzeit wünschen
Rainer und Ging2

Congratulation to the wedding
from a german-philippine couple
to a german-philippine couple.

Glückwunsch und alles Gute euch beiden!

Hey Franky,

wow. You did it!

Glückwunsch! Alles, alles Gute für euch beide!

Franky! Wünsche euch alles Gute! Grüsse auch von Roland.

Frankie-Good-News,
Das sind ja richtig gute Nachrichten.
Herzlichen Glückwunsch an dich und deine Angetraute.
Hoffe du hattest auch Gäste aus Langnasenland und ihr habt ordentlichst gefeiert
Grüsse aus München

Hey Yeah You Franky Good News!
That is good news indeed to hear of your wedding. Congratulations and all the best to you and the new bride.
Cheers.
Tim

Hallo,

auch von uns hier, alles alles Gute. Bin gerade etwas angeschlagen, KzH, und deshalb etwas verspätet. Wie sehen uns.

Jochen und Anja

hi frank,

willkommen im club ;o)

aaaaaallles liebe auch von mir und dino,

cheers. kiki.
Leave a Comment